The 7X7 Photography Project
In the summer of 2014, SF State University journalism student, Ms. Emma Chiang, led a summer photography class named after the rough square mileage of the San Francisco land mass. Each of the participants (from Grace Fellowship Community Church and Redeemer Community Church) focused on a person, place or issue as a way to learn, understand, and more fully love our city. Presented below is their work, 7 photos at a time, accompanied by a brief essay reflection.
Enjoy!
San Francisco Giants
God said, 'Let the earth put forth vegetation…trees of every kind on earth that bear fruit with seed in it,' and God saw that it was good (Genesis 1).
On a typical morning on Guerrero Street, beneath the weeping canopy of a Geijera parviflora (Australian willow), sleepy Tartinian patrons line-up for their java and buns. At Mission Dolores, a tourist snaps a photo of the iconic facade framed by lush Ficus microcarpas (Chinese Banyans). On a quiet side street, sheltered by a fragrant flowering Magnolia grandiflora (Southern Magnolia), a homeless man sleeps peacefully. In a variety of ways, trees enrich our lives and provide benefits to our community and to our world. Our diverse urban forest consists of non-native species which flourish in our mild Mediterranean climate. These colossal perennials are the longest living residents in the Mission District. -Jackie Ng
Diamonds in the Rough
The Mission District is filled with colorful and intricate houses and architectures that I believe is overlooked and under-appreciated by many of us who walk these streets every day. This image is one of a set of photographs that I took to capture the architectural beauty of our neighborhood that largely go unnoticed, that may seem "average" or nondescript to the eyes of the passerby. I particularly enjoy how the choice of paint colors work in unison with the unique geometries of the architecture characteristic of so many of the homes found in the Mission District. I wanted to capture this beauty amidst the daily bustle that surrounds these buildings, the "diamonds in the rough" of a neighborhood where problems and chaos can sometimes seem to prevail. – Kenny Jong
Walks for a Peaceful Mission
With his right hand grasping a golden bell, Father Richard Smith lightly swings it from left to right as an interfaith group walks and prays in unity for San Francisco's Mission District. Twice monthly, congregations from the neighborhood gather to walk in silence on particular streets, offering a presence of peace amid high gang activity and violence. Participants carry signs that read "stop the violence," and visit places where crimes have occurred. They pray in remembrance of the victim, for friends and family, and also for perpetrator. Recently, the fatal shooting of 20-year old, Guatemalan immigrant, Amilcar Perez-Lopez, shot by police, ignited a firestorm in the community. A large & diverse crowd walked the streets and participated in a die-in, in front of the Mission Police Station, to fight for the just treatment of Perez-Lopez's shooting. - Emma Marie Chiang
A Final Mission over the Mission
On Friday morning, September 21, 2012, the Space Shuttle Endeavour did a planned flight over San Francisco atop a modified-747 shuttle carrier en route to Los Angeles' California Science Center, its final destination. In anticipation, San Franciscans flocked to the highest and clearest available viewing points to witness this historic event. Armed with a radio top provide me with a play-by-play of the shuttles' whereabouts, and a camera ready to photograph the sighting, I anxiously waited on the top my Dolores Street apartment. And then it came. It was exhilarating to see the Endeavor and the shuttle carrier share the skies with some of the most iconic edifices in the Mission District. As an aerospace enthusiast, it was personally thrilling to witness my profession and my neighborhood so beautifully intertwined in this one moment. - Karen Kanis
Sweets in the Mission
The Mission District is an eclectic community like none other. At its heart are the people, shops, and eateries that bring the neighborhood its life and culture. With my camera, sweet tooth, friends and family, I set out to learn the Mission from the inside-out, visiting such establishments as Bi-rite Creamery, Pie, Dolores Park Cafe, Tartine, and the Thoroughbread Cafe. Through this photography project, I experienced so much more than delicious food. I took with me wonderful memories and conversations, a deeper love for our neighbors in the Mission, and a greater appreciation for the challenges that small businesses face, particularly today's rapid gentrification. Visiting these places to eat and converse allowed me to get to know others more deeply, and to form a closer relationship with a place that has become like another home for me. - Hannah Yee
Holy Family Sister
Sister Marianne was a teenager when she sensed the call to the life of a nun. As a youth growing up on Dolores Street in the '30s, she lived in a house that overlooked the Holy Family Day Home, a "home away from home" for children of parents afflicted by earthquakes, plagues, war and famine. Her heart when out to these little ones, and she was drawn into service. Joining the Sisters of the Holy Family, a Catholic order founded on the heels of the Gold Rush, Sister Marianne went on to faithfully serve children for over seven decades at the corner of 16th and Dolores! The matron saint of the Day Home, her passion and commitment to the welfare of children and their families these many years has been unswerving. Now living in the Sister's retirement home in Fremont, she is a gem of a neighbor of that will be deeply missed by all.
– Craig Wong
Being Found by the Red Jade

I did not discover the Red Jade restaurant. This neighborhood gem found us. About eleven years ago, a fellow congregant, Lisa, and I were looking for a place to eat in the neighborhood. Walking along Church Street, we came across a Chinese restaurant that appeared to have recently opened. As we walked by, we took a glance into the window, didn't see many patrons, and decided to keep on walking. Immediately, Sally, a Red Jade employee, came running out, imploring us to come in and eat. We did, and what a delicious meal we had that day. It has been the go-to Chinese restaurant for our congregation ever since. In fact, on the day I took this photo, five of our families were eating there. To this day, I am grateful that Sally came running out to us that afternoon. – Brian Chinn
Excelsior Diversity
Growing up in the culturally diverse Excelsior District of San Francisco was such a privilege. I had neighbors to the right of our home who were immigrants from Mexico, to the left from the Philippines, and across the street from Italy. Not only is the district rich in cultural diversity, but also geographically compact. Folks learn to work together.
Mission Street vividly displays this diversity. Monica Martinez, a medical assistant at the Excelsior Health Clinic, says the organization serves about 40 people each day, the majority Latino. She shared with me the difficulties of caring for patients who suffer from auto-immune diseases, such as diabetes, or are in need urgent care. Her passion for public health is fueled by her relationships with her patients, which is what makes the job most meaningful for her.
At the Central Drug Store, Toni Ferretti, the warmhearted amiable employer for over two decades, always greets her loyal customers with "how may I help you today?" and knows each one by name. Ferretti enjoys socializing with her customers especially, those she has grown to know throughout the years. The recession effected her business as other local eateries, which drew people to her store, closed down.
At the Filipino bakery, Goldilocks, long-time employer Anther Reveche commutes from South San Francisco to the Excelsior, juggling the many responsibilities of the bakery, while handling over a hundred transactions daily. He shared about his longing for his children and extended family to emigrate to the U.S. from the Philippines, but is discouraged by the long taxing immigration legal process.
Two blocks down sits the Filipino Community Center, where Katrina Cortes and Mario De Mira shared about their organizing work, and the services they offer: labor programs, ESL classes, affordable housing assistance, immigration legal aid, cultural celebrations and festivals. Their opportunity to stand in solidarity with their Filipino brothers and sisters encourages them. They can play a part in addressing the social and economic oppression their people face in this country.
After learning about the resources that the community center offered, I went back to Goldilocks and gave Reveche a pamphlet and encouraged him to seek immigration legal aid there. I offered to pray for him and got the chance to bless his life in the name of Jesus, praying that God would provide a way for his family to come to the U.S.
The Excelsior is a special place where God's people live and work. As I walked back along Mission Street I prayed for more of God's Spirit to move among this rich diversity of ethnic communities, bringing about His shalom. - Emma Chiang
UCSF: 150 YEARS OF CARING FOR SAN FRANCISCANS
One of the world's leading health sciences universities, the University of California, San Francisco (UCSF), dates its founding to 1864, when South Carolina surgeon Hugh Toland founded a private medical school in San Francisco.
UCSF's public mission is to transform health through research, education, and patient care. It is one of the premier health sciences universities in the world. For 150 years, it has provided health care for San Franciscans and employs 24,000 people, many of them San Franciscans. UCSF, through it's Medical School, Pharmacy School, Nursing School, and Dental School, prepares healthcare professionals to care for all kinds of patients. In particular, its SF General Hospital campus cares for the indigent population of our city.
Lisa Balzer works at the Ida Friend Infusion Center at the UCSF Helen Diller Family Comprehensive Cancer Center administering chemotherapy to cancer patients. Natalie Chinn works in in the UCSF Medical Center Pharmacy at Mission Bay preparing Total Parenteral Nutrition for patients. Both Lisa and Natalie view their work as a way of living out the gospel. Other members of our congregation who work or have worked at UCSF include Albert Jew, Brian Chinn, Gigi Fong, Ed Fong, Jason Gabler, Karen Seth, and Joyce West.
A new hospital for women, children, and cancer patients will be opening in February of 2015 at the Mission Bay campus. The 43 acre Mission Bay campus is ground zero for the biotech industry.
I enjoy working at UCSF and appreciate the positive impact that this institution has on our city. It's amazing how many people are treated here and how many jobs it creates. - Brian Chinn
WE SUSHI
Food trucks are a part of the everyday scene of this city. It is easy to see them in every corner of San Francisco. They are fun and and have a great variety of dishes from all over the world. The food trucks are part of the local economy of the city, employing hundreds of people.Their versatility and mobility gives them an advantage over brick & mortar restaurants.
I decided to base this project on "We Sushi" a sushi food truck business where I have been working for more than 6 months. My intention is to show a common working day and the talents and efforts of the people who work there.
I am very interested in social photography as a tool of communication and education regarding the activities and subcultures of all sectors of society. This project challenged me to get to know other people, to learn about their gifts and talents, and the challenges they face in life. The gospel calls me to love my neighbor as myself (Matthew 22:39), and I believe that projects like this can help us put this commandment into practice. - Jorge Cruz
DOWNTOWN TEXTURES
I took a walk in downtown San Francisco to shoot my photographs. While many have done this before, it was eye-opening for me, despite the fact that I've walked these streets to school countless times. However, I normally walk these streets in a hurry, on a mission to get to class or accomplish a task. In this mindset, I fail to notice the things around me.
This time while walking, camera in hand, looking for things to capture on film, the thought came to me that in the two years of walking to school on these same streets, I had never noticed the unique patterns and textures that surrounded me. For example, I noticed how the sidewalks across the street from each other seem to lean into one another meeting at a horizon line, as the streets extended from the point where I stood. I noticed that the feathers of pigeons have such intricate textures, and shades of gray and green.
In my project I wanted to photograph texture, pattern and angular shapes as expressed among small spaces in San Francisco. I love the idea of capturing how something feels using senses beyond touch, to experience a tangible space with a flat image that is virtually untouchable. –Tiffany Denson
PEOPLE OF THE EXCELSIOR DISTRICT
My favorite place to take pictures in the Excelsior District is Mission Street, only a block from my house, because it is filled with life. My first seven photos were random snapshots of the neighborhood, but going back and looking through my pictures I realized I had lots of candid shots of people. I then went through and found my seven favorites which was hard. I had many more, but I narrowed it down to the seven that you see displayed.
I chose them because of their composition, lighting, and content. I looked for compositions that were the most pleasing or juxtaposition in the man with balloons in front of The Dragon House, the two boys in front of the United We Purge poster, and the short lady walking past a really tall man pulling up his pants. The rest were pictures of people getting on or waiting for the bus. The Muni transit is a big part of the Excelsior because most people don't work in the neighborhood and many don't have cars so they take the bus to their work, or wherever else they are going.
Walking my neighborhood helped me see and appreciate more the diversity of San Francisco. In my walk I learned God's desire to know, love, and care for each and every different person in our city. - Brendan Fong
A BIT OF DOMESTICITY
On the bustling, energetic Duboce & Church Street, commuters and locals can rest on furniture resembling pieces from their grandmother's dining room, or perhaps an IKEA showroom.
In 2012, in response to the need for seating near this busy train stop, the SF Arts Commission (SFAC), the SF Metropolitan Transportation Agency (SFMTA) and the Department of Public Works, commissioned L.A.-based artist Primitivo Suarez-Wolfe to create this permanent public art installation.
Domestic Seating is comprised of nine, immovable cast metal replicas of chairs donated by local residents. Nearby plaques read: "Inspired by the discarded furniture commonly seen on city sidewalks, Domestic Seating evokes intimate interior spaces and unexpectedly transforms this intersection into a shared experience. The collection of seating replicated in metal was selected by the artist through a casting call." According to the SFAC website, "the artwork involves an exchange between the private and public."
"To me it is a way to create a shared experience among the residents and commuters," said the artist. "The installation of these intimate and familiar objects in an unexpected environment inspires the viewer to create stories about the former domestic existence and owners of these chairs. We're happy these new additions to the neighborhood will provide a place for rest and enjoyment for years to come," said Director of Cultural Affairs Tom DeCaigny. Primitivo's artful solution has also gained national recognition.
Last June, Domestic Seating was named to the Americans for the Arts list of top 50 public installations in the country. A few weeks ago, I stumbled upon these chairs while returning on a prayer walk of the Duboce Triangle neighborhood. My small group prayed for this area in the context of the creation narrative in the Book of Genesis: God created, rested, and declared that all was very good.
What appears to be furniture discarded on the sidewalk, perhaps cast-offs from a garage sale, are purposefully crafted and logistically placed for the community to rest. Those I interviewed were grateful for the respite. And the chairs evoked good memories of home. - Jacqueline Ng
NEEDLES & PENS
Two doors down from my place of worship and work, Breezy Culbertson tends Needles & Pens, a social-visionary space that remains unique in San Francisco a decade after its inception. I chose this punky gathering spot ("store" is inadequate type) as my photography subject not only to get to know a neighbor, but because of what Needles & Pens (N&P) symbolizes for the Church, particularly amid the growing e-wealth epicenter that is the North Mission.
On the surface, N&P is a shop that sells zines (self published literature), greeting cards, clothing and jewelry. But it's also an art gallery with white-wall showings, where people gather around local talent. The beauty is in the paradox of self-expression & community: people are drawn together through the release of one's gifts. N&P's economic message is also palpable: humanity over profit. Here, no one creates for love of money, but rather for its potential for human connection.
To me, the ideals of N&P are strikingly parallel to what Christian theology envisions for the Church's mission: the prescient, eschatological space where God-given gifts flow outwardly to rebuild a fractured humanity…a vision toward which mammon is subservient. - Craig Wong
EXCELSIOR PLAYGROUND
I saw the sky with beautifully painted wispy clouds on this day and wanted to capture the beauty that I saw. Photos are limited in their ability to fully capture what we see with our eyes and the emotions that God's creation stirs in us. But, even in the streets of San Francisco, in my own neighborhood, across the street, we can see and experience the awesomeness of our creator God in the city that He loves. - Gaylene Wong
TRANSIT VULNERABILITY
When our office moved from downtown to the Bayview, I began to drive to work instead of riding public transit, and now I miss it. Public transit is one of the few places in San Francisco where the full diversity of the city comes together. But despite their use by many different groups, Muni and BART are not a common space for building community. Instead, technology has enabled us to isolate ourselves in personal bubbles, ignorant of the people around us. We come from different parts of the city, yet remain apart, shielding ourselves from the awkwardness and vulnerability of relationship. We try not to notice the homeless person for whom Muni is more than just transportation; it's a place of shelter, of rest. We breeze past those for whom public transit is their workplace, more often sharing with them our frustration than our gratitude.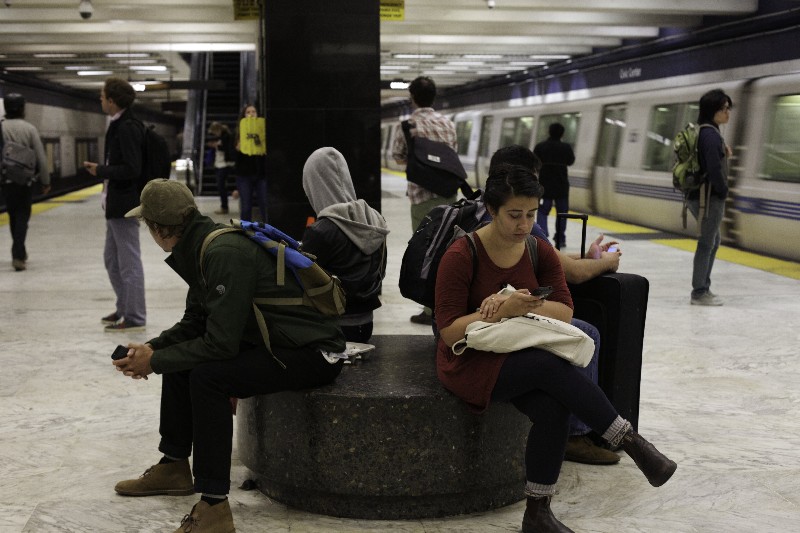 In the process of working on this project, I realized that it needed to be more about the people than the vehicles of public transit. Approaching Marlon, the BART employee, required both assertiveness and vulnerability at the same time. It is this vulnerability that we are uncomfortable with and do our best to avoid. But when it is embraced, there is great reward to be found. Explaining to Marlon that my project was through a church group, he asked more about which church, and explained that he was a Baptist minister at a church in Emeryville.
Through the vulnerability of relationship, public transit is not a sterile piece of infrastructure, but is a place to find the Lord at work. - Jeffrey Wong
CANINE & HUMAN FRIENDS AT FORT FUNSTON
Fort Funston is an incredible place to enjoy beautiful dunes and vistas of the Pacific Ocean. But one can imagine seeing the place through dogs' eyes: it is a slice of open-space paradise within the city limits of San Francisco, the second-most densely populated city in the United States.
But within this open-space treasure, there is a community of people and their dogs that find a convivial thread of connection, linking one to another. This is what I hoped to discover by joining Joanna, Jasper, and Jasmina on one of their daily walks.
A routine like dog-walking at 7 a.m. at Fort Funston enables relationships of familiarity as you see the same folks and same dogs day after day, month after month, year after year. You notice the changes in each others dogs, and you notice when people change or don't show up. You get to know each others' stories, and you welcome newcomers, dog and human. But it takes intentionality to be open to people and their dogs. For example, I did not see a single person listening to an iPod walking a dog; they were fully engaged in the environment.
I was blessed to try to capture the simple hospitality, routine joy, and exuberant delight experienced by both dogs and people early on a Friday morning. - Kevin Wong
LAUNDROMAT NIGHT LIFE
I shot my pictures at nighttime not knowing exactly what I was going to get. I had wanted to take pictures of people but I realized that taking pictures of people were a lot harder than I had planned. I decided one night to go out onto Mission street in my neighborhood with my dad and see what pictures I can get in the dark. I had never really done this before.
Just down the block of my house is a giant colorful and busy laundromat. I loved the way the lights brightened just about the whole street. It gave me the idea to see how many of these would be there on Mission street. So my dad and I drove down counting as many wash places as we could and there added up to be almost ten for as far as we went! I stopped at each of them and shot them from across the streets. I really had to discipline myself to be patient as the contrast of light in the dark made the pictures very difficult to come out the way I wanted them to. The light coming from inside the building dominated all light and it was hard to make out almost anything outside of the building. I had to change settings just so that I was able to see signs above the bright rooms.
As I continued down the street capturing all these laundromats, I noticed a pattern. In every laundromat, there was always at least just one person cleaning, mopping, or closing up. It was interesting how little we pay attention to things like these- that there are tons of laundromats almost every other block and how lonely people who work there must be.
It brought up a lot of questions, reminding me of all the many bakeries I recently visited in the Mission District. Like the bakeries, there must be a lot of competition among these laundromats. How many have opened and closed down over the years? When I was taking these pictures, not only was I drawn to the colorful and brightly-lit yet often overlooked washing places, but also the similarities and differences that they share with bakeries and other small businesses in the city. - Kiana Wong
EXCELSIOR PLAYGROUND
The Excelsior playground is a well-used playground. You can find children running around the play structures, athletes on the courts and picnickers on the grass. The people who gather here are very diverse in age, ethnicity and choice of activity.
I chose the Excelsior playground because it is place in my neighborhood that I go to often in the summer. It is across the street from my house and many of my friends gather there to spend time together and play. I have learned that the park is a gathering place in my neighborhood where people come out of their private houses to be around other people. Parents and grandparents who bring their children trust that it is a safe place for them.
In San Francisco, I do not see many parents playing with their children, but in a small place like this park, I see relationships being built. This small run down place in the Excelsior has been placed here by God to serve the people of this neighborhood as a place where people can have fun and enjoy one another in community. - Sofia Wong
KALEO
San Francisco proclaims a message of hospitality to all her citizens, whether they are rich or poor, white or black, straight or queer; everyone enjoys San Francisco for her diversity. However, not all people in SF have adequate access to basic needs for the whole life that God intends for everyone.
Our church began a program called Kaleo that has kindly supported many families in need. The Kaleo staff has helped countless people, and I believe they will be blessed for all their selfless and loving efforts.
Annually, Kaleo hosts a picnic for all the participants to enjoy. This year, I had the fortunate opportunity to follow the group with my camera on their awesome and delightful trip to Don Castro Reservoir in Hayward.
In our time there, I witnessed for myself the quality personalities of all the staff and the light and delightful hearts of the children and their parents alike. I was able to capture many sweet moments at the picnic, with help from my ever-so-nice mother, of course, and hope that everyone will enjoy these pictures. - Josh Xiao
A DAY IN THE LIFE OF A HOMELESS MAN
For my final photography project, I chose to shed light on the issue of homelessness in San Francisco. I photographed Edward Secrease, a transient black man in his fifties who sells Street Sheet newspapers outside of the Powell Street Muni station. One summer afternoon, I spent an hour with him, taking pictures and observing him selling newspapers. This was an eye-opening experience because I realized how hard it is to be homeless. Out of the hundreds of people who walked past him during that hour, only a handful stopped to buy a newspaper from him. He would talk to people but they wouldn't even glance his way, averting their eyes and walking quickly past him. Edward said the worst part about his situation is people ignoring him, being scared of him, and giving him a bad attitude. My heart broke for all the homeless people who have to live day-by-day like this, being treated like they are invisible.
This photography project showed me the human side of homelessness. There exists a great need in our city to simply see homeless people as fellow human beings. During our photo shoot, Edward had a charming smile and an infectious laugh. He had a larger-than-life personality and a happy-go-lucky attitude. He shared about his life with me, talking about the hardships and happy times he has gone through. He enjoyed playing Frisbee and water skiing in his young life. His favorite possession in the world is his cell phone. He considers the Heavenly Father his best friend. Second to Him is his human father. Although we come from two completely different walks of life, I consider him a kind friend. I hope and pray that our city will stand in solidarity with the homeless, caring for them in vulnerability, friendship, and love. - Erica Yee
URBAN DRAMA
As an actress and lover of the arts, I wanted to capture the life of aspiring performers in their natural state. Youth for Asian Theater (YFAT) is a non-profit organization that focuses on building ties between youth in the city and to promote the understanding of Asian American culture. The lack of Asians in theater discourages many aspiring Asian actors to pursue their dream. However, YFAT is a welcoming and encouraging outlet for youth to express themselves and develop their love for theater. Through acting, technical support, writing, and directing, the members are exposed to real life theater production.
In 2013, I starred as the lead role in many of the YFAT short plays. My experience in YFAT, while challenging and outside my comfort zone, was very rewarding in the end. Not only did I learn the art of acting and make new friends, I discovered a part of myself. I broke out of my shell and found my love for the stage. After being a part of such a wonderful group, I thought it very fitting to share the story of YFAT to others. YFAT is a perfect fit for San Francisco's large and diverse Asian population. This photography project provides an inside glimpse of Asian American youth who express their creativity through theater. In this "seven by seven" community we call home, may you discover your passion. - Hannah Yee
BAYVIEW PLAZA
Bayview Plaza is a little strip mall down the street from where I work and go to church. It's an interesting intersection of the different kinds of people that live in the Bayview/Hunters Point neighborhood. Walgreens is a big draw as well as sandwiches at Subway. There are also a handful of interesting small businesses – a hair and nail salon, a wig shop, a sporting apparel store (mostly Giants gear), and a dry cleaners. Even though this is my neighborhood (I work and go to church there), I still feel like I'm a bit of an outsider. I was hoping to get to know my neighbors a little better as I went to photograph people in the plaza. I think I succeeded in meeting folks even if some of them declined my offer to photograph them. This is just a small record of a few of the people I met and the things I saw while at the plaza on a Friday and Saturday in July. - Bruce Yu
THANKS FOR VISITING OUR GALLERY!
And a special thanks to the SF Foundation FAITHS Program for the art grant that made this project possible.
ABOUT THIS SITE
SFEXEGESIS.COM will eventually serve as an on-line repository of tools for the Church to learn, understand, and interpret San Francisco (that is, to "exegete the city") as an expression of Christian discipleship. Photography-related resources, such as The 7X7 Photography Project, will be one of several components included on the site that can equip individuals and congregations to more deeply know and love the amazing city we live in.